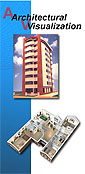 AEC Teknoloji offers marketing opportunities to the investors by its intelligent Architectural Visualization solutions in the beginning of the construction even during the project steps. Civil Construction Projects have the highest priority in the investing value due to they have long construction times which would effect the market-resource balance relatively.

It is as important to explain the entire project concepts to the customer clearly and thoroughly as finishing the project. Because the customer needs to understand and believe that costs and the time is proportional to the scale of the project.

AEC Teknoloji offers following, Modeling of the entire project in the CAD Environment, Visualization in the Photorealistic Level, Colored, Wireframe, Perspective Views and Layouts, Virtual Travel in the Project, Preparing Virtual Presentation and Advertisement Materials.